In 2014, Amica Group grew its sales revenue up 22% year on year to PLN 2,028,295,000. EBITDA and profitability have grown in line with the main increases in revenue recorded in the home market of Poland, along with Germany and in Southern European markets. The UK contributed some of the most dynamic growth up more than 50% over the same period.
During 2014, the Amica Group began selling its ranges of built-in and freestanding appliances in new markets such as Spain, Portugal, Iran, Iraq, Morocco, Vietnam and Australia. Significant growth of built-in categories; cooling, ovens and hobs, as well as freestanding cookers was a key factor for growth in all markets despite extremely variable macroeconomic circumstances in Eastern European markets and the Russian currency depreciation.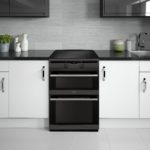 Simon Freear Country Manager for the UK & Ireland explains "The independent electrical and kitchen retailer has been loyal to Amica over recent years. By building on this solid foundation with new products, technology and services the brand is now in a position to grow exponentially on the groundwork we have all worked so hard to lay. Consumer awareness is growing and with the new extended range of induction hobs, hoods and a new suite of cooking products including double ovens in all fuels, the brand is poised to achieve great things in the UK and Ireland."
Amica UK has recently announced a new strategic distribution partner for Ireland and was selected from all the countries across the world to host the company's annual global conference. Amica will also be at IFA again this year.
Simon concludes "The UK is a very important market to Amica and those doing business with us can expect exciting things during 2015/16."
Double Ovens from Amica – purpose made for the UK consumer, launched earlier this year
For additional media information please contact:
DRA Public Relations.
Email: deborah@drapublicrelations.co.uk
Telephone: 01425 461600
Mobile: 07767 784295