Amica's new fully-integrated (behind a cupboard door) dishwasher features an innovative Blue-Dot of light that shines on the floor in front of the dishwasher to indicate when the wash cycle is complete.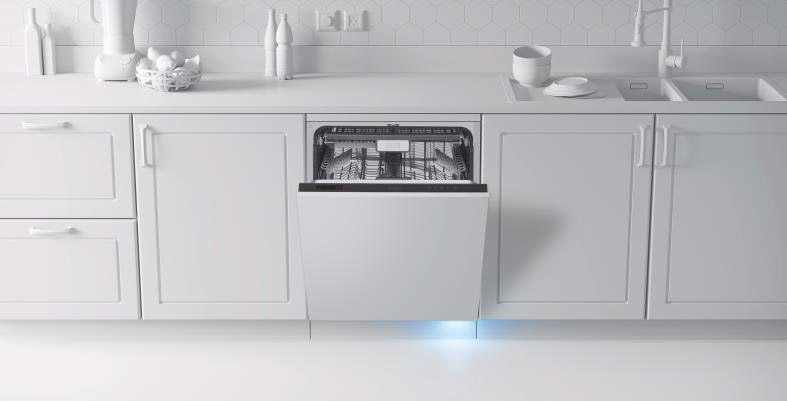 The ZIM688E dishwasher achieves an A+++ for energy efficiency provides light inside and there are choices for flexible Zone washing. Adjustable basket space and a MaxiSpace3 (3 positions) cutlery tray and Upper Rack Mug Shelves provide a host of loading options.
Amica is arguably Europe's fastest growing appliance manufacturer and offers one of the most complete ranges of built-in and freestanding domestic appliances. Each is provided with a minimum 2-year warranty.
Additional features of the ZIM688E include:
14 place settings
8 wash programmes (including 1 hour 60⁰C wash programme)
Start delay (up to 24 hours)
Aquastop (automatic leak detection)
Turbo drying
Aqua Spray with three spray levels
Noise is kept to just 45 Db9(A)
Water consumption is 10 litres (normal 4550°C programme
RRP £299 inc VAT from independent retailers nationwide
Web: amica-international.co.uk
Social: @amicaUK
Telephone: 01425 461600
Email: sales@amica-international.co.uk
Photography caption:
Amica ZIM688E integrated dishwasher showing blue-dot of light on floor which signals wash completion.
For additional media information please contact:
Deborah Risbridger, DRA Public Relations
Email: deborah@drapublicrelations.co.uk
Telephone: 01425 461600
Mobile: 07767 784295
www.drapublicrelations.co.uk