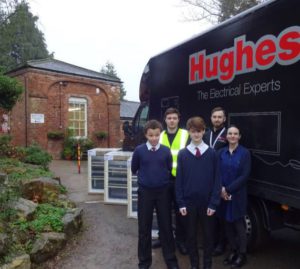 Electrical experts Hughes has joined forces with Amica to donate four new double cavity freestanding cookers to a Worcester junior school.
The River School Fern hill Heath, of Worcester needed to replace the existing cookers in the domestic science classroom to enable students to develop their culinary skills in line with the curriculum.
Richard Henshaw, Worcester Branch Manager for Hughes explains "We aim to support our local community as much as we can. When Sabra Brannen who works for us here in Worcester asked if we could help the school we immediately thought of Amica's brand new double cavity cookers. Amica kindly agreed and we managed to get the cookers installed just before Christmas."
Hughes Electrical is the fourth largest electrical retailer in the UK and operates a network of over 30 specialist retail outlets.
http://www.hughes.co.uk/information/aboutus
For additional media information please contact Deborah Risbridger, DRA Public Relations:
Telephone: 01425 461600
Mobile: 07767 784295
Email: deborah@drapublicrelations.co.uk